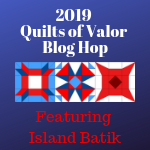 Hi, and thanks for visiting. This wonderful blog hop is brought to you by Island Batik and Jennifer at The Dizzy Quilter. Jennifer organized this to help promote her favorite cause, and Island Batik donated a very generous bundle of fabric to each participant so we could make a quilt that would wrap a soldier in a hug.
2 yards of solid white, a yard of each dark blue, the medium blue and 2 different reds, plus a Stack of 10" squares. Seriously?? Island Batik takes such good care of their Ambassadors, especially when we're quilting for a cause.
I knew I wanted to use as many of the 10" squares as possible, with little waste. It's a goal, lol. I played around with a number of ideas before realizing it was crunch time, and decided on a Friendship star with a red center, and a wide strip pieced block with the red squares to accent them, and then sashing and red cornerstones. I did a design mock up in EQ8, and played with block sizes to get the most out of the fabric, and keep within the recommended sizes for Quilts of Valor. I also needed to decide who I would donate this to, either to the Organization for them to distribute, or if I knew of someone I really wanted to give a quilt to. I've made quilts to honor Veterans before, and was able to present one to Dad before he passed away. I was touched when my brother asked that it drape over the coffin at his wake, since it was something he was proud of receiving.
My son asked if a friend from church was in the army, and then I remembered that there was someone who has done something special for me, who was a chaplain. When I googled him (he moved to another parish recently, and I needed to get contact info) I discovered an interview he did about his reason for serving and his 2 tours. That convinced me. But that's going to be another post, after it's presented. This will finish about 65 by 86, larger than suggested, but it's for a tall person.
This was the plan. But my printer was out of ink.
My "note" copy printed in yellow and gray, lol
and I forgot that I wanted to use blue (used red) for the cornerstones and decided not to add the red border. I just used Island Batik's Navy mottled for that, and will also use it for binding. I just purchased a bolt of Navy and 2 Stack packs and Strips for my Etsy shop. I also have a good red, and the White Solid, plus Sprinkles and another new white batik, so I have extra.
As with all other plans, I've been working on this, hoping to have it ready to quilt by last Sunday, June 30th. That didn't happen. Mom wasn't "herself" the last few weeks, and refused to get out of bed last Wednesday, and again on Thursday (June 27), and after I finally got her up, she was mumbling incoherently and falling asleep at the dining room table. I called 911, and they took her to the hospital. Although no infections or other issues were found, and no "cause" of her incident was determined, I have a theory. I think it's more than just the next step in her Alzheimer's disease, since it was more of a nose dive, not step. She spent 5 days in the hospital, and is now in a rehab facility to build her strength. So, my time has been with her, mostly 6 to 7 hours a day at the hospital, and 3 to 7 at rehab. I did bring my laptop, and did some calculations for the sashing and cornerstones while with her, but no sewing time. I got the top assembled July 3rd and borders added on July 4th. Here are some current views.
I love how it came out. I chose to use the 4 stars with the navy and red Poppy design in the corners. and mixed the rest of the blue stars in, plus the different reds are mixed. I also like the red cornerstones, and the simple blue border makes a good frame (I did test out other ideas, but Navy won).
I have a wide backing in a navy design (not batik) and a package of Hobb's Heirloom 80/20 bleached cotton batting ready to load on to Vanna, my Handi Quilter Amara, and a cone of Aurifil's Liberty red, white and blue variegated thread. I plan to do an edge to edge design, possibly the same I did on the table runner last week. That may change, lol. I will share when it's done, plus more photos and hopefully the presentation photo.
July 1
Becca Fenstermaker —
Pretty Piney
Denise Looney —
For the Love of Geese
Gail Sheppard —
Quilting Gail
July 2
Pamela Boatright —
Pamela Quilts
Anne Wiens —
Sweetgrass Designs
July 3
Bea Lee —
Bea Quilter
Carla Henton —
Creatin' In the Sticks
July 4
Emily Leachman —
The Darling Dogwood
Joan Kawano —
MooseStash Quilting
Jen Strauser –
Dizzy Quilter
July 5
Steph Jacobson —
Steph Jacobsen Designs
Leah Malasky —
Quilted Delights
Anja Clyke —
Anja Quilts
Maryellen McAuliffe —
Mary Mack Made Mine
Thanks for visiting, and I hope to have this done this month. I'm going to make it my One Monthly Goal, with Elm Street Quilts. Happy 4th of July! Have a great weekend.